48.5 million people in France, that is to say more than 90% of French Internet users have made purchases on the Internet in 2021. Nothing very surprising you say to me given the ease of creating an online store to sell your products, creations or works. Many solutions currently exist, whether via WooCommerce, Shopify or via dedicated CMS.
Among them, WooCommerce is undoubtedly the best known and most popular of all. With more than 5 million active sites, and more than a hundred dedicated extensions, WooCommerce asserts its image as a leader on the market. Add to that the dozens of integration solutions with the different delivery services in France, and you'll have the perfect combo for your store.
In this article, we will learn and understand how to configure everything very easily thanks to the WcMultiShipping plugin that will allow you to configure WooCommerce to work with Chronopost but also to display your Mondial Relay points in WooCommerce.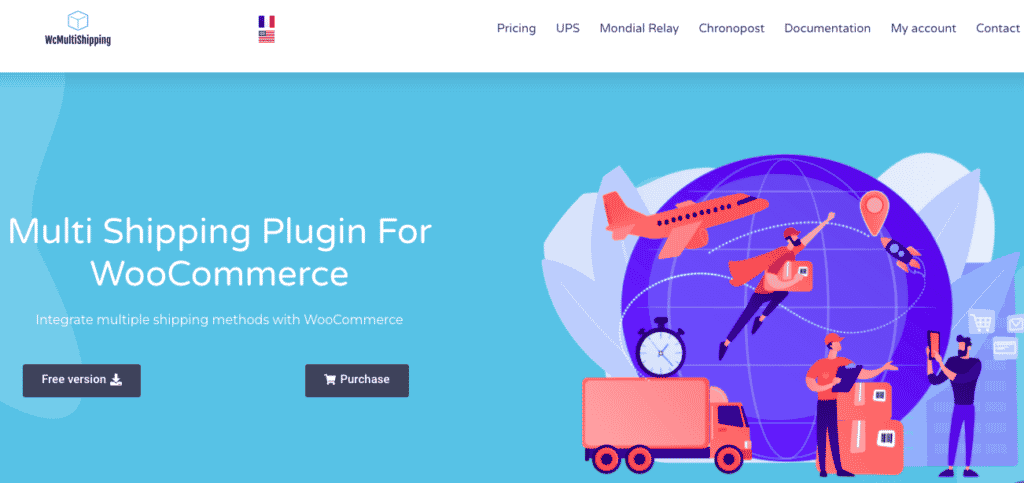 Install your WcMultishipping extension in your WordPress site
To do this, you can click on the "Extension" menu in your WordPress admin interface. From this page you can then simply add a WordPress extension.

Look for the "WcMultishipping" plugin, download it and install it.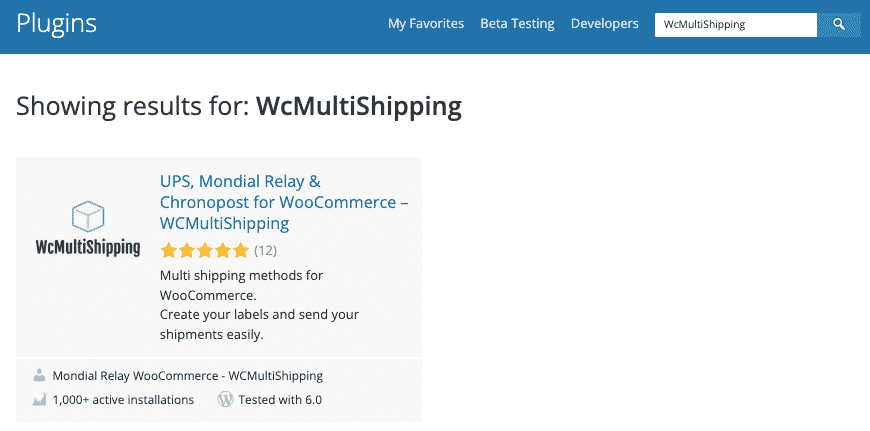 You can now configure the WcMultiShipping extension to display Mondial Relay pickup points.
Mondial Relay settings for WooCommerce
To configure the extension, nothing could be easier, go to the WooCommerce settings and select the Mondial Relay tab.
On this page, at first, you will just need to enter your Mondial Relay login information to enjoy the integration between WooCommerce and Mondial Relay.
The different settings also present in this page will allow you to configure additional options, including about your account but also the settings of your deliveries.
Mondial Relay Delivery Methods: Settings for WooCommerce
Now that you've filled out your account information, you'll need to configure your shipping methods. To do this you will need to click on the dedicated tab (in the "Settings" section of WooCommerce).
Through this interface you will be able to create and define the different shipping zones of your store and thus have the ability to add your shipping methods in WooCommerce. During this step, your Mondial Relay delivery methods will be displayed. It's up to you to choose the ones that suit you best and add them as available delivery methods.
The next step is to configure this shipping method in order to create your different price ranges. These can be set based on weight or basket price via a dedicated interface and fully integrated with WooCommerce.
When you have finished defining your different settings, all you will have to do is save and go see their displays in your store.
To do this, you can create a new order via WooCommerce and you will then be able to see the display of your delivery methods. A button to choose the relay points is automatically displayed in the checkout WooCommerce if you have chosen a method allowing it in a withdrawal point.
Create your Mondial Relay shipping labels via WooCommerce
Now that your first orders have arrived, it's time to generate your shipping labels.
First, you will be able to view your orders in the "Mondial Relay" menu tab that will have been added by the "WcMultiShipping" extension.
You will then land on a page that will summarize all the orders placed via the Mondial Relay delivery method. All you have to do is to check the different orders you want to print the delivery labels and use the dedicated button to generate your Mondial Relay labels.
If you want to do it in a unitary way, you can use the Mondial Relay dedicated meta box, added in each order edition page. This alternative way will allow you to define with more precision the size and weight of your package to generate, later, the shipping label.
On this page, you can also take advantage of the live tracking of your orders. It will be updated on a regular basis so that you can consult all the information on the different orders and deliveries at a glance.
An extension fully integrated with WooCommerce
In summary, WcMultiShipping will also provide you with:
The automatic creation of your shipping labels
The change of order status when the label is generated
The possibility to display the relay points via Google Maps or Open Street Maps
Real time tracking of your packages
The creation of email notifications
Mondial Relay, Chronopost, UPS but not only…
One of the undeniable advantages of WcMultiShipping is the fact that the extension is not only limited to Mondial Relay, indeed it is "multi-carrier".
Via this extension other delivery service providers are integrated in the extension, and this without any additional cost.
You can for example add and configure Chronopost and its different delivery methods (Home, Point Relay etc.) but also UPS.
To conclude, with WcMultiShipping you will be able to unify the management of your different shipping methods and thus save a lot of time in your daily management.
What do you think about it?