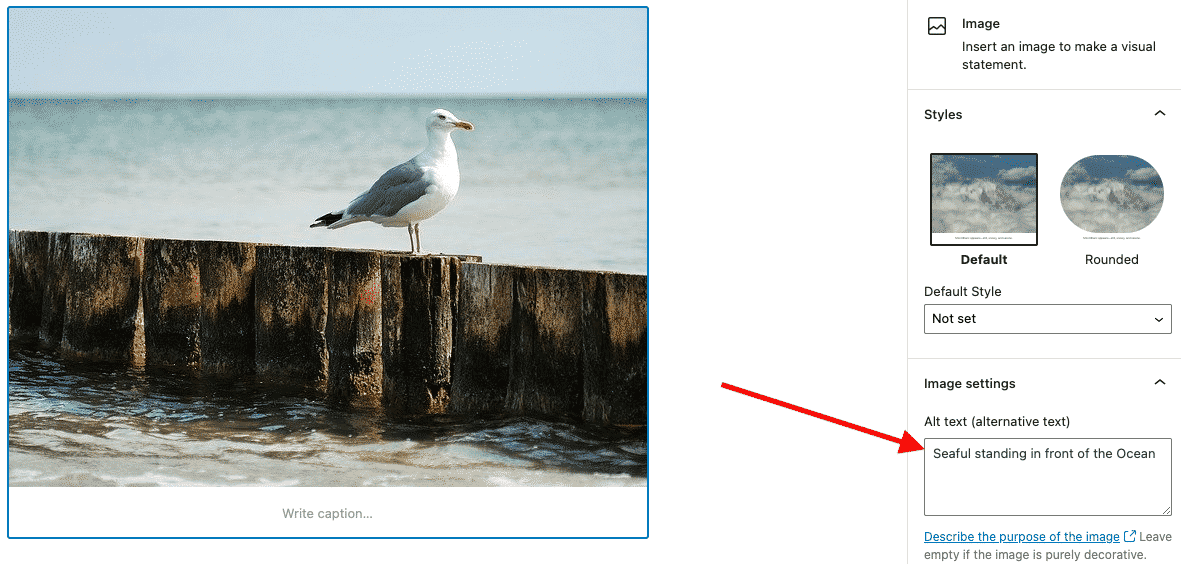 What is an alternative text in WordPress? How does WordPress use alt text? Why they are important: how to add them to your web page to make it more accessible and to improve your rankings?
So many questions about alt texts in WordPress that we will adresse in this WordPress guide.
We will also cover the the complex topic of writing SEO optimized alt text and I'll share with you the best plugins WordPress to automatically optimize your alt tags.
We have a lot on our plate, so let's get started!
What Is Image Alt Text?
Also being known as "alt tags" or "alt attributes," alt texts (alternative texts) are used within HTML code to describe how an image will appear and function on a page.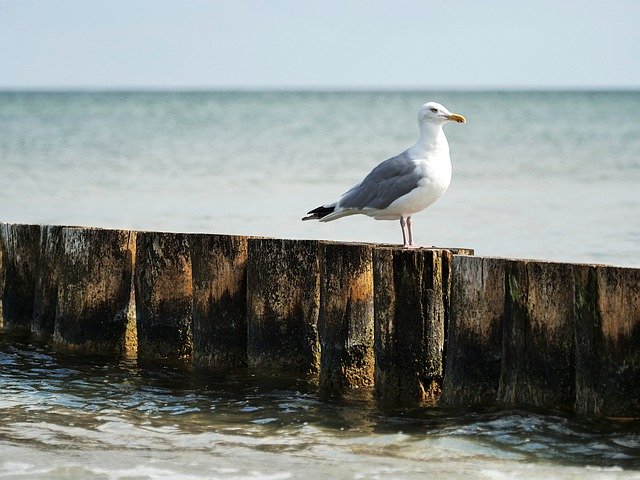 The first and foremost rule of web accessibility revolves around adding alternative text to photos. The alt attribute will be read by screen readers to help visually impaired users better understand images on a page.
In addition, should an image not be able to be loaded, the alt text will be displayed instead by the web browser.
Finally, Alt text helps search engine crawlers to better understand the image, thereby making it ranking better.
This is how alternative texts should look like in your WordPress code:
Why Alternative texts important?
There are three reasons why you must add alternative texts to your images in WordPress:
They make your website more accessible to blind or visually impaired users (and this should be a reason good enough for you to add alt attributes to all your images);
25% of Google organic traffic actually comes from Google Images and adding alt texts to your images is the first rule of Image SEO optimization. Automatically adding alt texts with plugin like Image SEO will a give boost to your organic traffic. If you own a WooCommerce site, this is of utmost importance since Google Images will drive qualified leads to your website.
It will have a positive impact of your whole SEO optimization and improve your site ranking as well.
But it's 2021 and Google is capable to understand what an image is about using AI and facial recognition technologies right?
Right, but it would be expensive for Google to scan all the internet images using artificial intelligence. That's why Martin Splitt, Developer at Google, confirmed in August 2021 that alt text is still critical for SEO in a Q/A chat with SEO specialists on Twitter.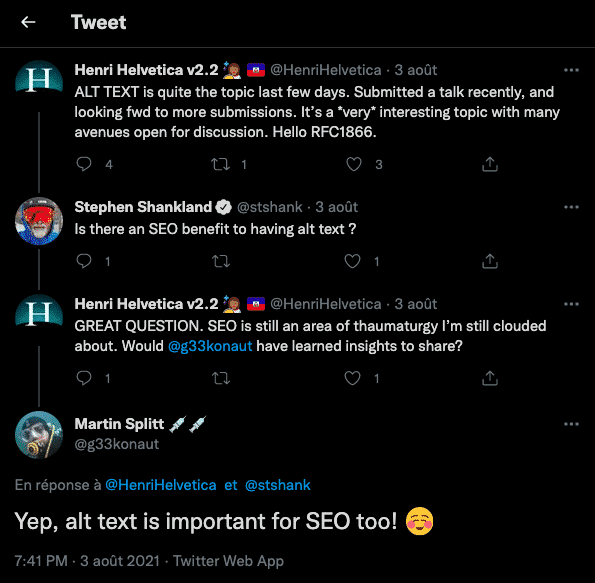 Yep, alt text is important for SEO too!
The Difference Between Image Alt Tag & Title Tag
Your image alt text describes your image textually so that search engines, screen readers, and other programs understand what it is.
The image title tag, however, is simply used to provide an image with its own title, though it's less important than the alt tag in terms of SEO and accessibility.

The alt text will be displayed by web browser if the image cannot load, while the image title tag will only appear when you mouse over an image.
Title texts are pretty useless, while alternative texts are important. That's probably why you need to click on Advanced in WordPress when you want to add a title tag to your image.
How to Add Alt Text In WordPress
Alt attributes can be easily added to images in WordPress. If you pay attention to these tiny details, you'll be able to achieve better (image) SEO results. Those with visual impairments will also like you more because of it.
As soon as you upload an image to WordPress, the image's metadata can be modified: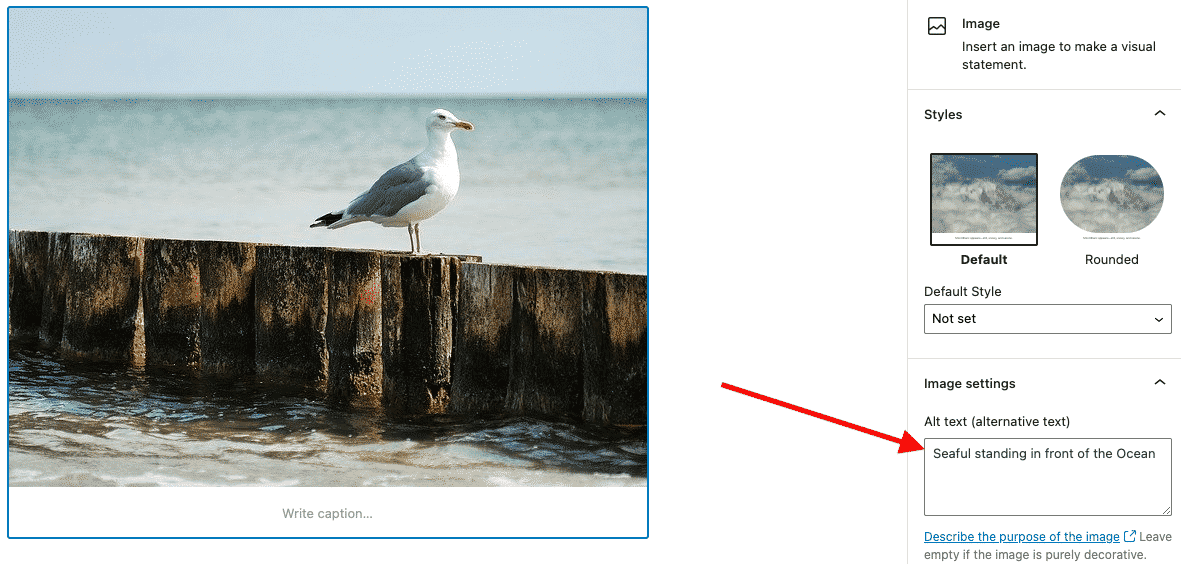 There's a field on the right-hand side that lets you change the image's alternative text. You simply need to enter a description in the corresponding field, save your changes, and you're done.
Alternative texts have to be short, but descriptive. The best way to write them is to describe your images with the fewest words possible while preserving the image meaning.
In our example, Seagull would have not been descriptive enough to give the meaning of the picture. That's why we added a few more details, so people with screen readers would understand it better.
Image Alt Text Best SEO Practices
Google Images best practices are clear when it comes to the alternative text attribute.
Image alternative text has to be short but descriptive enough. However, you should keep in mind that this alt text rule can lose its relevance if you don't also consider the image's context.
In addition to being specific, the alt text of an image should somehow also represent the topic of the webpage it supports.
Here are some other things you should keep in mind when you add alt tag to your images in WordPress:
1. Provide context related to your page's topic.
When the image shows no recognizable person or place, include context based on the page content. According to the topic of a webpage, the alt text for an image of a guy typing in front a computer could be "SEO specialists optimizing WordPress images for SEO" or "A blogger installing a plugin on WooCommerce."
2. Make your alt text no longer than 125 characters. 
At this point, screen-reading tools stop reading alt text, preventing visually impaired individuals from hearing long-winded alt text.
3. Do not include "picture of…" or "photo of" or "Image of…" in your Alt tags
Screen-reading tools (and Google, as well) recognize the HTML image element to automatically identify it as an image. Start directly by the description of your image or picture.
4. Use your keywords, but avoir keywords stuffing. 
Including your article's target keyword in your alt text should only be considered if it can be easily done. Consider semantic keywords and longtail keywords if you can't include your targeted keyword. Providing search engine robots with textual alternatives to your images should improve your page semantic, but don't try to fool Google.
5. Fix spelling errors. 
You don't want misspelled words in your image alt text to confuse users or search engines crawling your site. Alt text should be reviewed the same way as any other content on the page. Don't try to include related search intention keywords in your alternative texts.
Bulk Update Alt Tags In WordPress
When you upload images without setting SEO descriptions, you may end up editing hundreds or thousands of descriptions later. Making it almost impossible to optimize your missing alternative texts on existing images.
Hopefully some WordPress plugins allow you to bulk edit alternative texts using artificial intelligence and facial recognition technologies.
Here is a short guide on how to use the plugin to automatically add alt texts to your images:
Step 1: Install and activate Image SEO plugin from WordPress plugin directory.
Step 2: create an account (it's free) to get a KEY API. The key will automatically be connected to your WordPress site.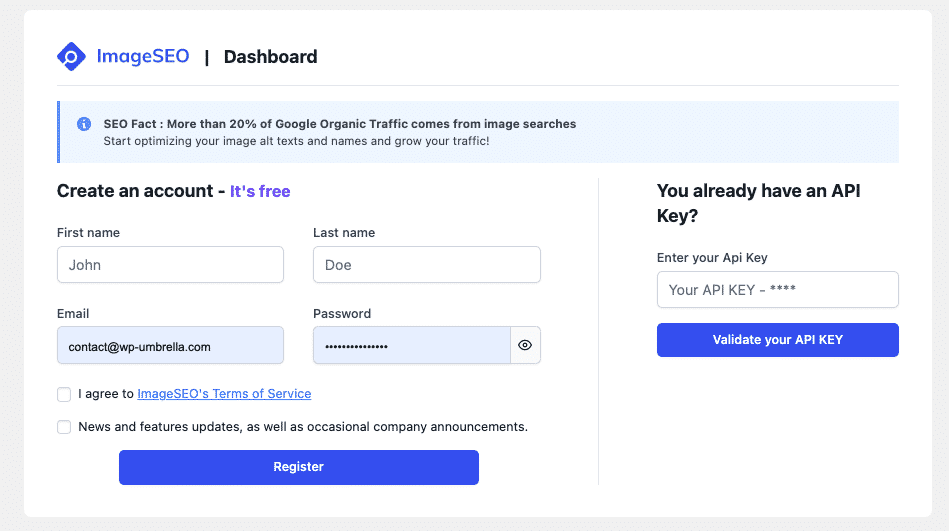 Step 3: click on bulk optimization and define your settings.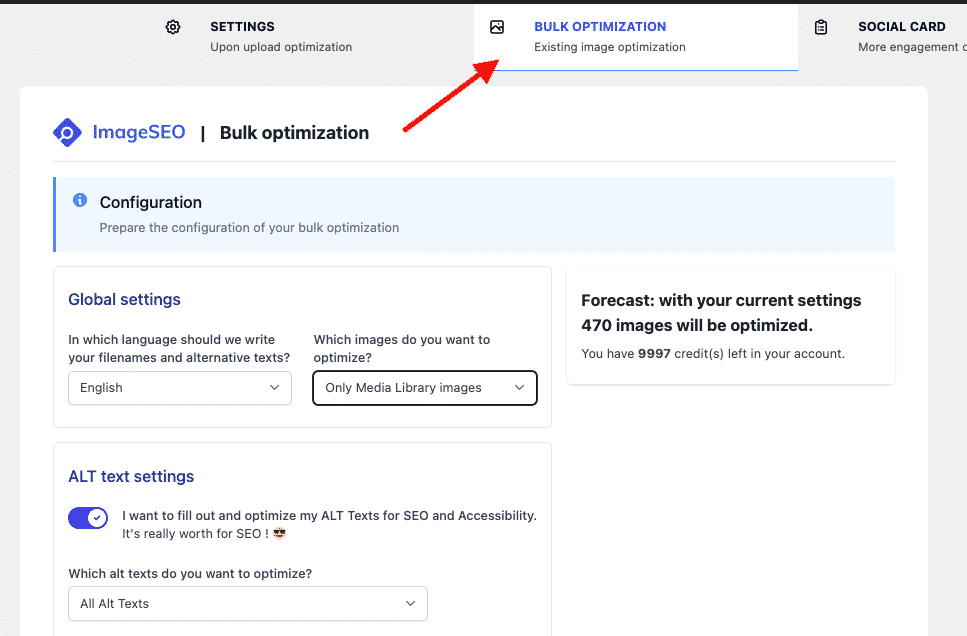 From here, you can select the language in which your alternative texts will be written and select which images you want to optimize (all or only the featured one)
Then click on 'I want to fill out and optimize my ALT Texts' to display the settings. Select 'Only missing alt texts' and a format.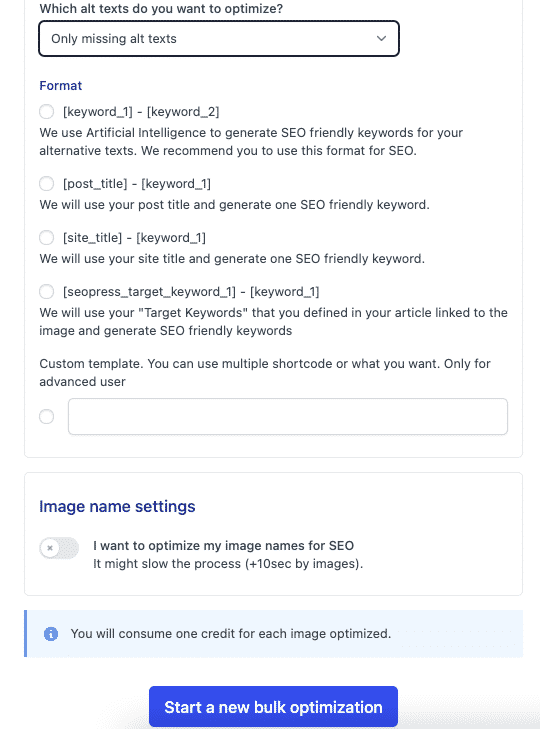 You can also choose to rename bulk update image names.
Step 4: Click on start a new bulk optimization and let the plugin process your images.
Final thoughts on Alt text, Image SEO & Accessibility
Unlocking traffic from Google Images by generating image attributes required for SEO is probably one of the easiest way to get qualified traffic.
Updating your missing alternative text will help you to get more visitors without writing more content.
Visual search is on the rise and image SEO optimization is an underestimate weapon for SEO specialists.
Hopefully a plugin like Image SEO will help you to quickly optimize your images alternative texts.
Give it a try!