What is EXIF data ?
EXIF stands for Exchangeable image file format. EXIF (and/or IPTC data) is a file structure format used by digital cameras to store various information in pictures or images. Think of this data as a picture's fingerprint for .JPG files.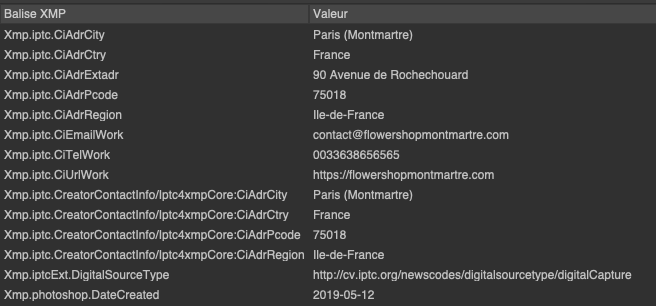 What exactly contains EXIF data ?
They embed data such as :
Date
Time
Camera model
Settings (aperture, shutter speed, flash..)
Geolocation
Copyright, etc.
And a lot more. EXIF data can really embed a lot of information. You can even find stories on SEO forums saying that EXIF data has been used by the police to solve cases.
When you realized that image SEO is almost only about helping Search Engines to understand your picture, you get why people have been discussing the potential impact of EXIF / IPTC on SEO.
SEO Tips about EXIF Standard
Tips to excel in high society (or more likely in SEO Workshops) : EXIF standard was defined in Japan and there is absolutely nothing surprising about that since Sony, Fujifilm and Canon have their headquarters in Tokyo.
What is the link between EXIF Data and SEO ?
Everything started back in 2014, when Matt Cutt (working for Google at the time) announced in an ambiguous YouTube video that EXIF data from images could potentially be a ranking factor for Google Image. To quote Mr Cutt : " It is something that Google is able to parse out and I think we do reserve the right to use it in ranking ! »
Since then it has been no consensus between SEO specialists on this topic.
Some of them were saying that EXIF Data had absolutely no impact on images SEO, meanwhile other pretended that they could rank better in Google using these metadata.
People would however agree that the most important for images SEO were ALT Texts, filenames and images weight.
Can EXIF Data improve my ranking in Search Engines ?
The answer is YES, YES and YES (otherwise we wouldn't be writing this article) ! As a matter of fact, ALT Tags should be your main concern. However, this doesn't mean that you should to neglect other factors and EXIF/IPTC data is definitely one of them.
Google Image trends
Let's have a look at the recent trends regarding Google activity in the field of images :
EXIF data helps Google to understand your pictures
Google is emphasizing development of image searches for one specific reason: they hope to improve their Artificial Intelligence and they need SEO experts help to do so.
Along with alternative texts and filenames, EXIF and IPTC Meta Data can help Google to understand your pictures so don't neglect them.
The future of SEO is through images. This is already happening on Facebook, Pinterest and Twitter; if they are not optimized for social media sharing, articles don't get a click.
This being stated, ask yourself how you can improve your IPTC and EXIF data for SEO.
How to view and edit EXIT / IPTC metadata ?
Even though EXIF / IPTC data are normally created during the JPEG compression, some tools allow you to edit the data.
The most well-known tools in the industry currently are Adobe Photoshop, Adobe Lightroom and The GIMP. I personally use The GIMP.
Here is the process for editing metadata on The GIMP :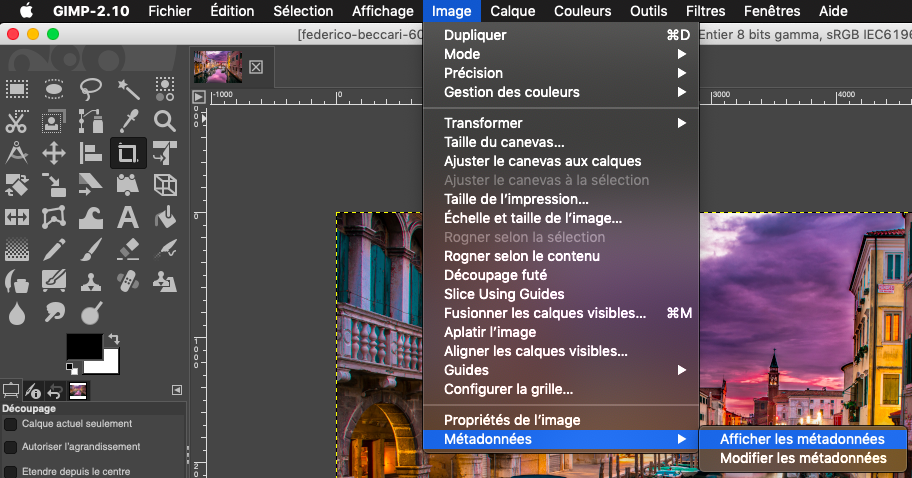 Open your .JPEG photo and follow this path Image > Metadata > Edit Metadata
Select the empty fields you want to update and click on "Write Metadata".
"Export to .JPEG" (be careful to have ticked the 3 boxes save "Exif data", "XMP data" & "IPTC data").
How do you optimize EXIF data for SEO ?
Step 1 : choose the images you want to featured in Google
On average, image metadata makes up for more than 15% of JPEG weight file on the web.
This is why they are often erased by image compression services. You therefore need to find a balance between EXIF / IPTC data that you can erase and the one that you want to keep.
This is a question of equilibrium and balance (like everything in SEO).
If you want to learn every thing about image compression have a look at my image SEO ultimate guide.
Step 2: choose the best keywords and add relevant data for SEO
Keyword stuffing and duplicate content are bad for SEO (and therefore for images SEO).
Be creative and add data that is relevant, such as : 2 or 3 keywords, author and location. IPTC / EXIF data might be extremely relevant for local business SEO.
If you need inspiration to find relevant keyword and improve your meshing, feel free to use our SEO tools !