Here is a guide that will allow you to install Image SEO Plugin on your WordPress site to optimize your image alternative texts and names.
Follow the steps but feel free to contact us at support@imageseo.io if you experience any issue.
Nota bene: our plugin is compatible with all the major themes, plugins and hosting service providers. If you are looking for a good hosting service, we encourage you to check Kinsta.
Step 1 : Go to your admin dashboard and click on "Plugins," then "Add new"

On this page, you just have to click on "Install now". Once installed, you will be asked to activate the plugin. Click on activate and go to the next step.
Step 2 : Get your API key
Once activated, our plugin needs an API key to work. To get and activate this key, you need to go to the "Settings" page of the plugin.

To obtain your API key you have to be registered. You can register directly within the plugin or use the registration form available on our website. It's totally free and we don't send spam to our users.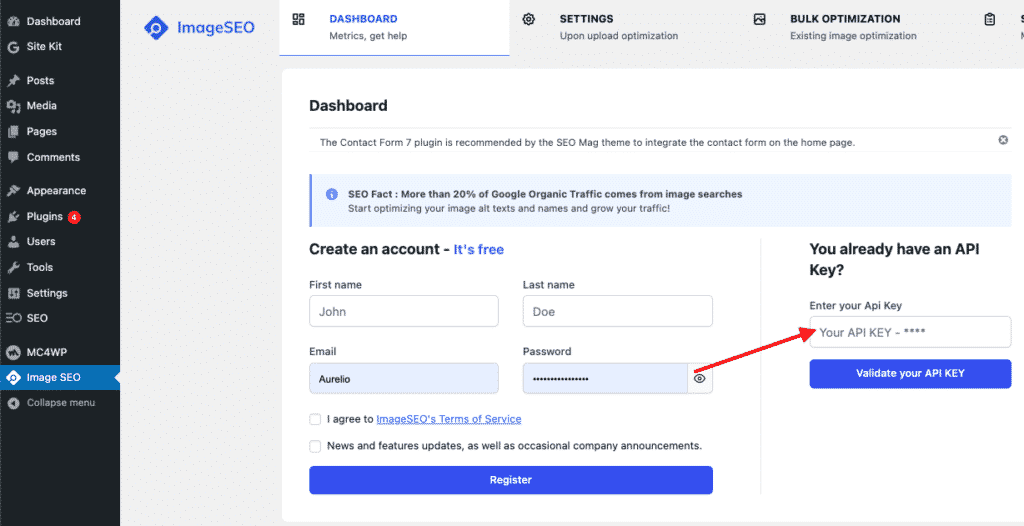 If you already have an API Key, you can copy/past the key in this field and save the settings.
The plugin is now connected and ready to optimize your file names and alternative texts ! The plugin can optimize your images on upload or bulk your entire Library.