Minimum Requirements
To install ImageSEO on your site, as of version 1.3.2, it must be running:
WordPress 5.2
PHP 7+ (ask your host to upgrade your PHP version)
Step 1 – Download ImageSEO
You can download the zip file from WordPress plugin directory.
Go in your WordPress admin dashboard and click on "Plugins -> Add new" in the menu. Then, search and install "ImageSEO" plugin.
If you want to install it manually, the .zip is available here:
https://wordpress.org/plugins/imageseo/
Step 2 – Get your API key
Getting your API key directly from the plugin
Once activated, our plugin needs an API key to work. To get and activate this key, you need to click on 'Image SEO' in your WordPress admin menu.

To obtain your API key you have to be registered. You can register directly within the plugin. Enter your first and last names, your email and choose a password. It's totally free and we don't send spam to our users.
The key will be automatically connected when you register in the the plugin. If you need to use this key on several websites, you can also get it in our application.
Getting your API key from the application
Once registered, the key can be found in ImageSEO's application.
Click on Account and then copy the API key and go to your WordPress website.
Click on 'Image SEO' and enter the API in this field.
Alright, the plugin is connected and ready to use!
Step 3 – Check if the results generated by our Artificial Intelligence are correct enough for you!
Scroll down to the page to the ' Settings – On-upload optimization ' block. UNTICK the 2 boxes. Then, scroll down to the bottom of the page and click on save.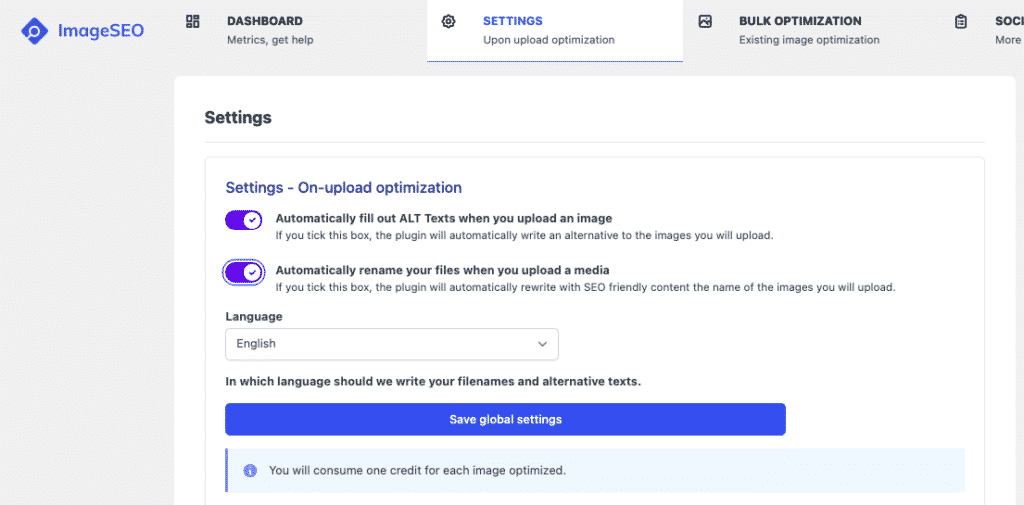 Then, go to your library and upload some images. Wait a bit, and go check in the media library. You image names and alt texts have been modified with SEO friendly content. If the result are not display yet, wait a bit and refresh the page.
And that's it! If the results suit your needs, you can buy more credit to optimize all your Library content.
The number of credits needed is available in the setting tab.